The vacuum heat treatment plant of the company ALD, which is available at the IOB, is suitable for a whole series of processes of the thermo process technology:
annealing
hardning/tempering
solution heat treatment
soldering
aging
sintering
Heating can be carried out convectively, under N2/H2 partial pressure and/or under fine or high vacuum. The maximum operating temperature of the furnace system is 1600°C. This makes the system suitable for e.g. sintering high-temperature alloys.
Following the heating and holding process step, this heat treatment plant also offers the possibility of quenching the charge with nitrogen under pressure of up to 10 bar. The nitrogen is circulated in the furnace chamber by means of a high-speed fan and recooled via an integrated, water-cooled heat exchanger.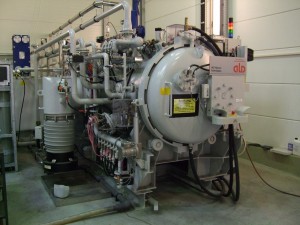 Technical data
| | |
| --- | --- |
| Batch dimension | 350 x 350 x 550 mm³ (WxHxL) |
| Gross batch weight | max. 200 kg |
| Nominal power furnace heating | 80 kW |
| Nominal temperature convective | 150 – 700°C |
| Nominal temperature Vacuum | 600 – 1600°C |
| Temperature uniformity | +/- 5 K |
| Ultimate vacuum | |
| – in fine vacuum | < 5 x 10-2 mbar |
| – in high vacuum | < 5 x 10-5 mbar |
| Leak rate | < 5 x 10-3 mbar l/s |
| Inert gas pressure in convection mode | 1,5 – 2,9 bar |
| Partial pressure operation with N2 or H2 | 1 – 20 mbar |
| Maximum pressure for gas quenching with N2 | 10 bar |